*Tested on Staphylococcus aureus ATCC 6538 at 1m distance in lab condition.
C-Bot is a remote controlled disinfection platform powered by UV-C light well known for high effectiveness germicidal effect on contaminated air and high touch surfaces. An embedded smart calculation algorithm enables C-Bot to calculate the time required for each task relying on the disinfection level and surface area.

Labor-free process of disinfection.
Consumable free disinfection.
Short time process of disinfection.
High efficiency of decontamination.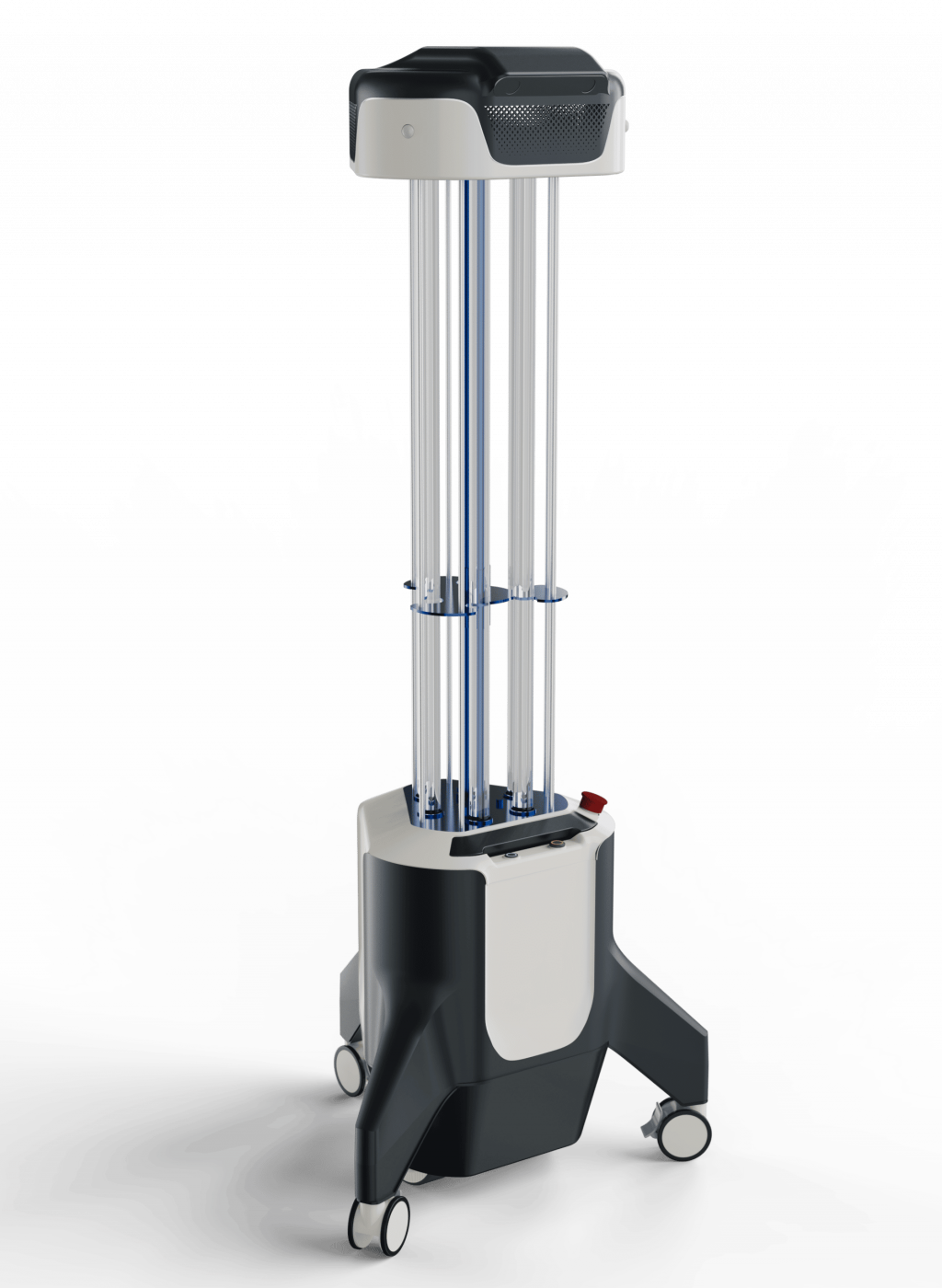 An easy to use control interface enables managing disinfection tasks from a safe distance, with the assistance of the dose calculation algorithm and a seamless logging and task tracking system.
To help you get the maximum benefit from using C-Bot in your facility, we provide an easy to use calculator that enables choosing the perfect position and disinfection level according to room layout and pathogen type.
We chose 5 minutes as a reference duration which according to our tests and calculations is the golden time to efficiently eliminate most of the pathogens frequently found in hospitals.
Plug it in
Place C-Bot in the room.
Configure it
Choose Room and Configure disinfection level.
Report it
C-bot will give a full log about previous task.
Lamps number:
10 TUV High grade UV-C lamps
Radiation intensity:
2.5 W/m² @1m
Disinfection area:
50m²@8m diameter 
[360-jsv total-frames=36 main-image-url=https://cbotrobots.com/wp-content/uploads/2021/02/C-Bot-1.png image-url-format=C-Bot-x.png speed=90 inertia=12 zoom=false reverse=true auto-rotate=1 notification-config_drag-to-rotate_show-start-to-rotate-default-notification=true ]
UV wavelength:
253.7 nm UV-C
Motion detection Sensor range:
360° @5 m
Hava Yoluyla Bulaşan Mikroorganizmaların Dezenfeksiyonu için CBOT Kullanımı Kişilerin karşı karşıya kaldığı en önemli sorunlardan birisi hava kalitesinin sağlanması konusudur. Sağlıksız hava solumak zaman içerisinde
Read More »
IAS okulları oluşabilecek enfeksiyonları önlemek amacıyla UVC dezenfeksiyon robotu olan C-Bot'u kullanmaya başladı, böylece IAS okulları UVC dezenfeksiyon robotları kullanan seçkin okullardan biri oldu. Bu
Read More »
Subscribe to our Newsletter
How can the C-Bot assist the healthcare ecosystem in fighting dangerous pathogens?
Try C-Bot in your facility
To get a real-life experience with C-Bot during the disinfection process, our team will gladly offer a free demo at your facility, with an insightful explanation about the control system and using instructions.
To ensure building a mature product with high efficiency, C-Bot went through intensive rounds of iteration and development performed by an agile team of engineers and designers.
Coming from different backgrounds and relying on the expertise from previous projects, the R&D team managed to solve problems and prepare C-Bot for the production process.
The effort to develop C-Bot was assisted with the valuable information and feedback from specialists working in the healthcare and microbiology sectors.